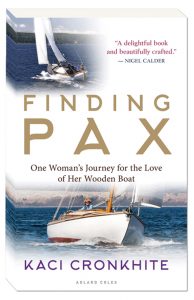 Thanks to modern communications, I have a lot of friends I haven't yet actually met. Next week I get to meet one in person, when Kaci Cronkhite (author of Finding PAX) comes to town. On my invitation, she's including a stop at the Jamestown Library on her Rhode Island speaking tour. (Join us October 27 at 330pm.)
I blame it all on Piet Boidin.
I first met Piet, my Danish house-dad, when Kim and I stayed with him and his wife Pia for the 2011 Snipe World Championship. After learning I was an author, he was appalled that Kaci and I (two American boat-loving authors, living a mere 3000 miles apart) didn't yet know each other. So he introduced us on Facebook… and the next time Kaci came to stay, Piet strategically placed his copy of Oliver's Surprise on her bedside table.
Ever since then, Kaci and I have Facebook-cheered each other on from our opposite coasts as we navigated through books, boats, and the beauty of the world around us. And then last year, a small world moment brought us a little closer together: Kaci's first book was discovered by an old friend, editor Molly Mulhern, which eventually led to this year's publication of a second edition by Bloomsbury/Adlard Coles. As you can see, the new cover is spectacular—maybe part of the reason Finding PAX has been shortlisted for the UK Maritime Foundation's Mountbatten Award.
The next small-world moment happened a month ago, when Kaci announced she would be talking at the Herreshoff Marine Museum in Bristol, RI. When I found out she had a few days to play, I offered to show her around—and then asked if she could fit in another presentation, here in Jamestown. "I love talking at libraries!" was her response. A few emails later we had a plan, and next week we will meet in person at last.
As the press release about Kaci's upcoming visit puts it, "Finding PAX is far more than just a story of a wooden boat and her owner; it is a combination love story, quest, and international mystery that is destined, according to one review, 'to take its place in modern wooden boat classics.' Other reviews call it 'a story of discovery and reconnection like no other' and say the writing 'is poetic, spare, and full of wisdom.'" 
I can already attest to the accuracy of the glowing book reviews. Next week I'll be able to tell you if Finding Kaci lives up to Piet's equally glowing review of the author. I'm guessing the answer will be yes. 
Locals: Join us at the Jamestown Philomenian Library, Saturday October 27, 3:30-5pm!