Is your book group looking for its next great read? Please consider Ferry to Cooperation Island—and, if you're meeting within driving range of Narragansett Bay (or online), I might even drop by!
Most book groups have plenty to say but often have trouble structuring their discussions. If that sounds familiar, here are ten Discussion Questions that cover what I consider the most important themes in FERRY. (FYI this post does include spoilers, so if you prefer, read the first chapter instead.)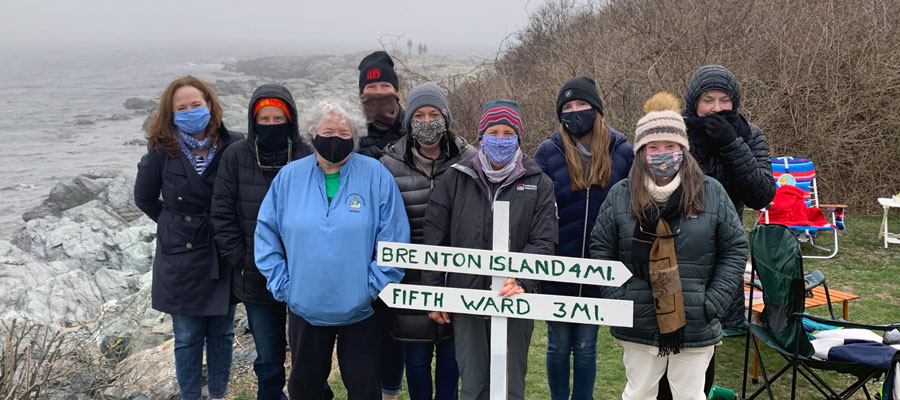 1. There are six point of view (POV) characters: James, Courtney, Lloyd, Parker, Mavis, and Owen. Who is your favorite, and why?
2. Were multiple POVs an effective way to tell this story? Why or why not?
3. Was there a character you would've liked to hear more (or less) from?
4. There are also several background characters: Barb the Baker, Anna the Artist, Will the Writer, Patty and Billy. And of course Joe and his mother, Mémé, and Dean Moreland. Who did you find most/least memorable? Did you want to hear more (or less) about any of them?
5. The Homer S. Morgan is definitely a bit odd compared to most ferries. Was the layout clear? If not, what should've been better explained?
6. Did you think the sit-in would be an effective response to the golf course proposal? Why/why not?
7. Why do you think Parker Dane advertises the view of Skye from the widow's walk? Did you "believe" any of the sightings? If so, which one(s)?
8. Was the ending satisfying? Why/why not?
9. If you found yourself on Brenton Island, who or what would you be most curious about?
10. Which house on Brenton would you choose for your summer vacation?
I'd love to hear your answers—because reader input will definitely help me finish the sequel. So even if you don't choose FERRY for your next book group read (or you already have), feel free to share your answers by email. And definitely let me know in the comments below if you think of another question.
Thanks!