Game of Sails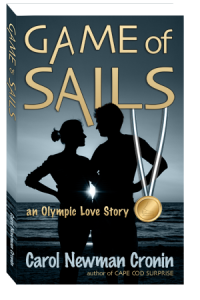 She only has one goal: an Olympic medal. Until he shows up.
Casey Morgan was just about to qualify for the national sailing team when Spencer Harding capsized on top of her. Desperate for a secret weapon, she steamrolls into his casual small town life to get dibs on a fast new sail. As even Casey's singleminded determination is tested by treachery, divorce, and serious injury, the two sailors merge their opposite approaches to work toward a lofty goal—a berth on the Olympic team.
"You don't need to know the difference between a tack and a jibe to feel the tension Cronin creates… to experience the elation of victory and shed tears of defeat." —J.B. Chicoine, author and artist
Available on Amazon
The Story Behind the Story
I started writing what would eventually become Game of Sails way back in 1994, long before I dreamed of going to the Olympics. Trying to fulfill my childhood dream of becoming a published author (and following the age-old advice to "write what you know"), I started a novel about competitive sailing.
As part of my research, I helped on the race committee for the 1996 Olympic Trials—never dreaming I would win the next Trials event I attended. Sometimes truth is stranger than fiction.
I also made my first attempt to find an agent, long before the manuscript was ready to leave my desk. Fortunately I got some great advice from Emilie Jacobsen at Curtis Brown, who'd been my grandmother's agent. She encouraged me to keep writing, while gently pointing out the many, many gaping holes in my story.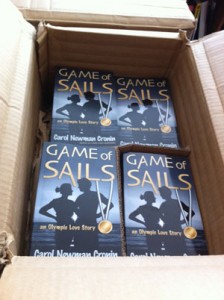 In 2000 I decided to put together my own Olympic campaign, which meant a four year writing hiatus. And after I came back from the 2004 Games, I was greeted by this almost-done manuscript about two opposites who team up to qualify for the Olympics. Could it be that I'd finally completed the necessary research to finish the damned thing?
I began to write again, filling in the blanks and adding details sparked by my memories. I also started Agent Search #2. Response was better, but still I was told it was a niche book that would never appeal to mainstream readers.
Meanwhile, I wrote a Christmas story for my nephew that did appeal to a publisher, and that's how Oliver's Surprise (and, two years later, Cape Cod Surprise) came into the world. While I wound my way through the excitement of book layouts, publishing, and signing events, Game of Sails sat by quietly, almost forgotten.
Finally, in the fall of 2010, I decided to use my new-found writing skills to finish Game of Sails.
So enjoy this taste of the Olympic sailing world, liberally spiced with romance, intrigue, and suspense!