Books
Since 2008 I've published three books, two with GemmaMedia.
I am often asked how I made the leap from Olympic sailor to published author. Though the two achievements would seem to require very different skill sets, they both played to my strengths in combining self-motivation and creativity. (Read Linking It All Together for more detail.)
Below are details, excerpts, reviews, book trailers, and some detail about the real-life event that inspired each story.
Game of Sails (2012)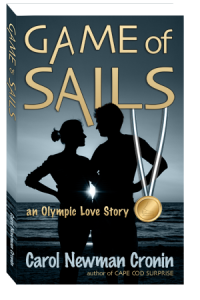 Casey Morgan was just about to qualify for the national sailing team when Spencer Harding capsized on top of her. Desperate for a secret weapon, she steamrolls into his casual small town life to get dibs on a fast new sail. As even Casey's singleminded determination is tested by treachery, divorce, and serious injury, the two sailors merge their opposite approaches to work toward a lofty goal—a berth on the Olympic team.
"You don't need to know the difference between a tack and a jibe to feel the tension Cronin creates… to experience the elation of victory and shed tears of defeat." —J.B. Chicoine, author and artist
Story behind the story
Read an excerpt
Oliver Series
Oliver's Surprise (2008) is about a twelve year old boy who (thanks to a bump on the head) travels back in time to 1938, just before the Great Hurricane hits. Set in coastal Rhode Island, the book includes several illustrations, a glossary of sailing terms, and a history of the hurricane.
"A vivid glimpse of boatyard life for a modern boy whisked back to his grandfather's day, just before the hurricane of '38."
-Molly Bang, author of "When Sophie Gets Angry."
"For a kid smitten with the sea, an old schooner is the ideal vehicle for going back in time to come to terms with a grandfather's death and learn a whole lot more…Oliver's Surprise reminds one of the pure connectedness of family and friends through the generations."
– John Burnham, Editorial Director at boats.com and YachtWorld
Behind the story
Read an excerpt
Cape Cod Surprise (2010) takes Oliver back into the teeth of Hurricane Carol, a storm that hit Cape Cod hard in late August of 1954. Once again, young readers see New England coastal history through the eyes of our intrepid Oliver, now a seasoned time traveler. As Carol starts to bear down on the sandy coastline, Oliver must face his own fears and uncertainties while contending with a renegade aunt and another time traveler who refuses to let go of modern niceties.The book embeds a sailing primer inside a ripping good yarn.
"Cape Cod Surprise brings to life what it is like to face a vicious hurricane. I kept reaching for my lifejacket and pulling up my hood throughout this fast-paced narrative." -Gary Jobson, Sailor and Author