Three years ago, shortly after the world shut down, I designated March 19 as Thank Your Teammate Day. (I admit, it was partly to distract myself from sheltering at home when I was "supposed" to be racing Snipes in Miami.) The following year I wrote (again) about the thankless job of crewing, and how skippers need to change that—even when we don't have an opportunity at an awards gathering. 
In 2022, I apparently dropped the whole thing—because the world was opening up again, and there were so many other exciting things to write about. But shouldn't our "new normal" include regular appreciation of our teammates?
Celebrate Thank Your Teammate Day
This year, I am happily reviving Thank Your Teammate Day (even though March 19 is already past) and weaving it into my "regular" late March tradition: tomorrow, Kim and I will line up with close to 30 other Snipes on the starting line of the 57th DonQ Regatta. Only a pandemic has kept us from racing the DonQ since 2010, because it's an extra-special chance to catch up with Snipe friends from all over the world for some Serious Sailing, Serious Fun; that unique balance of competition and camaraderie so perfectly captured by our class motto.  
Thanks to a lot of hard work by others (and that unique Snipe vibe), the 2023 fleet is a wonderful mix of Snipe veterans and Under-30s, who are just learning to appreciate the Snipe family—and who will continue this tradition long after the veterans retire. This success is drawing some press; Dave Powlinson has been asking questions for an upcoming article in Sailing World. After more than thirty years of struggling to describe what's so great about the Snipe, I look forward to reading his take: why a design that's almost 100 years old continues to attract such impressive talent—and so many strong personalities—over a wide age range.   
My best DonQ result with Kim (so far) was a second place in 2018, despite a major weather event that derailed her careful travel plans. I'm sure I wouldn't have done nearly so well (and might have gone home myself) if she had given up and just stayed home, but fortunately giving up (on or off the race course) is not in her DNA! This year we're hoping to improve on our 2022 results (17th), but regardless of how we end up, I know we will create some fantastic new memories.
So, before I forget: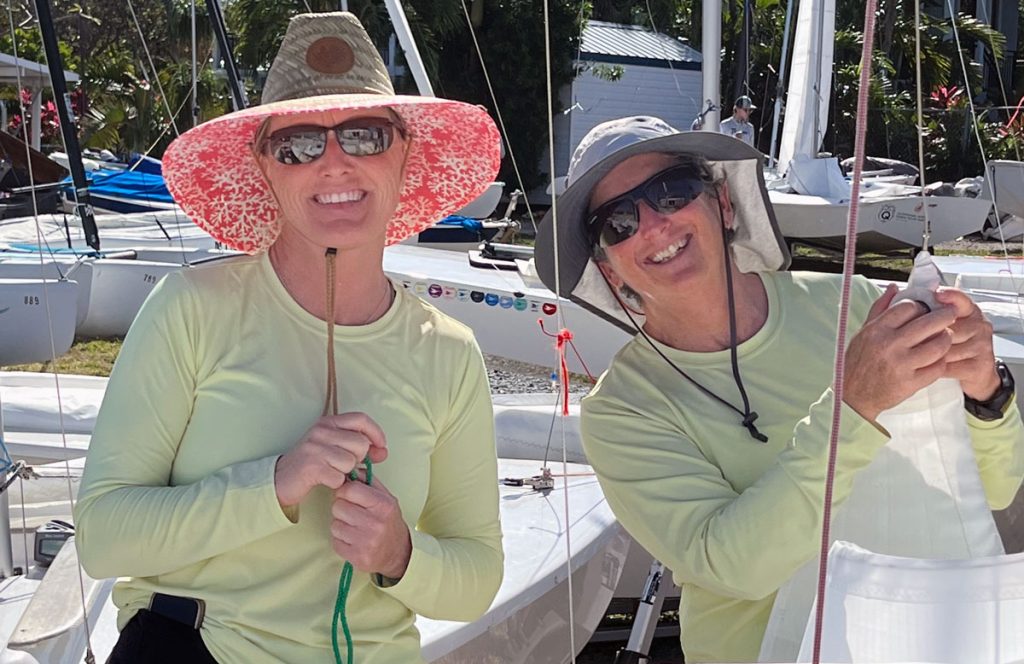 Thanks Kim. I can't wait to go sailing with you again!
Got a teammate you really appreciate but haven't thanked recently? Add their name to the comments below, or send me an email. I read them all, with (almost) as much gratitude as I have for my supercrew.
PS to Kim: I've got a special treat for you this year…
Read more about the Snipe
2020 Sailing World article: A World of Snipe
Snipe Sailing, and Writing about it