Happy December! I wish you and yours all the best as we settle into winter.
To help you weather the storms to come (and maybe your holiday shopping too), I've put together my annual Holiday Book List. I try to include only the most unputdownable books I read and this year, the final list is longer than normal. I've made no attempt to rank them, as it's impossible to compare such distinctive stories. As usual, the list is dominated by (coastal) fiction with a sprinkling of historical perspectives—and one complete surprise.
I'm always looking for book recommendations, so please add your favorites in the comments below or send me an email. Also, anyone on Facebook is welcome to join the Coastal Fiction Book Club, a growing community where we discuss a wider variety of titles than that group's name might suggest.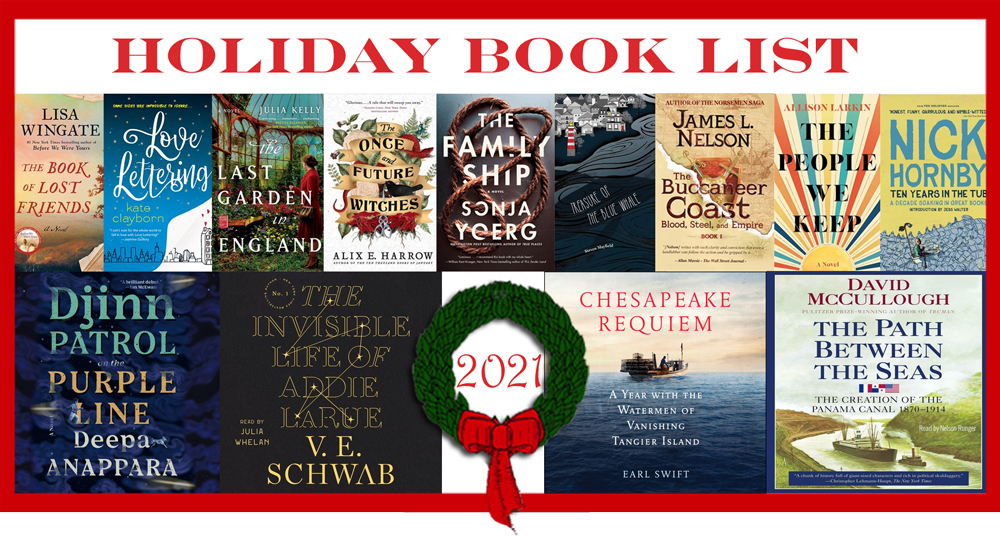 Where do all those links go?
Except for two book reviews, I've linked titles to bookshop.org, a site that turns your online shopping convenience into support for independent bookstores. Also, I've specified which books I listened to (a different experience); those mostly came from libro.fm, a subscription site that also sends a portion of each sale to local bookstores.
Okay, let's get down to it. And before I forget: Happy Holidays!
Fiction
Book Review: The House in the Cerulean Sea (TJ Klune) "This audiobook provided a lovely escape from a winter of sheltering in place—while also reinforcing the power of metaphor."
The Book of Lost Friends (Lisa Wingate) A historical novel that ties together a young schoolteacher in 1987 who discovers stories from 1875 Louisiana, based on actual "Lost Friends" advertisements that appeared in Southern newspapers after the Civil War.
Love Lettering (Kate Clayborn) Romantic comedy about a Brooklyn woman who hand-letters journals and also reads signs that others miss. The perfect escape, though the characters are charmingly imperfect.
The Last Garden in England (Julia Kelly) Historical romance in three different eras, united by one English garden.
Djinn Patrol on the Purple Line (Deepa Anappara) An immersion into the perils and beauty of Indian city life, seen through the eyes of a nine-year-old local boy. (I read the audiobook.)
The Invisible Life of Addie LaRue (V.E. Schwab) I listened to this incredible story about a woman cursed to never be remembered (but to live forever). Three hundred years of history, with one narrator… recommended for everyone who (like me) has been looking for a book like The Time Traveler's Wife.
The Once and Future Witches (Alix E. Harrow) How do women gain power? The answers are different for each century. This book envisions three sisters in 1893 who use witchcraft to promote the suffragist movement. "The characters live, bleed, and roar."
The Family Ship (Sonja Yoerg) A Chesapeake oyster boat high and dry in the front yard teaches seven kids about balancing family responsibilities with personal ambition.
Treasure of the Blue Whale (Steven Mayfield) When a Depression-era boy discovers a treasure on the beach, his sleepy Northern California village is transformed by comical consumerism.
The People We Keep (Alison Larkin) A teenager finds success and family in open-mics on the open road—but not without a lot of lies and hardship along the way.
The Buccaneer Coast (James L. Nelson) The newest book from one of my favorite authors! A deadly hurricane sweeps through the Caribbean in the 1500s, altering the power structure between Spanish, English, French, and the country-less buccaneers who want to control the beaches and bays of Hispaniola.
Non-Fiction
Chesapeake Requiem (Earl Swift); I listened to this history of Chesapeake Bay's Tangier Island, which is poignantly overshadowed by the island's expected demise—courtesy of rising sea levels.
Book Review: An Embarrassment of Mangoes "I've been craving technicolor stimulus. So when a book about A Caribbean [cruising] Interlude surprised me in the post (a present from cruising friends), I instantly pulled back its water-blue cover and dove in. Now that I've finished, I strongly encourage you to do the same."
The Path Between the Seas (David McCullough) This is, quite simply, the history of the building of the Panama Canal—something I'd never thought twice about but now realize was an incredible engineering feat. The audiobook saw me safely through many hours of sanding and painting last spring.
The Big Surprise
Ten Years in the Tub, A Decade Soaking in Great Books (Nick Hornby) This one is well outside my "usual" reading wheelhouse, but I loved it! Based on "Stuff I've been Reading," Hornby's popular monthly column, the book includes "both an impeccable, wide-ranging reading list and an indispensable reminder of why we read."
Got a favorite from this year (or last) to share? Add it to the comments below, or send me an email. Meanwhile, enjoy the holiday flurry—and If you're lucky enough to have the option, please support your local independent bookstore!
Previous Holiday Book Lists