A few weeks ago, I had a chance to comb through Sailing World magazine's photo archives with editor Dave Reed, who kindly offered to pass along anything that was relevant to the one-design classes I work most closely with. But after an hour and a half of searching through a mishmash of boxes, my favorite find had nothing whatsoever to do with one designs.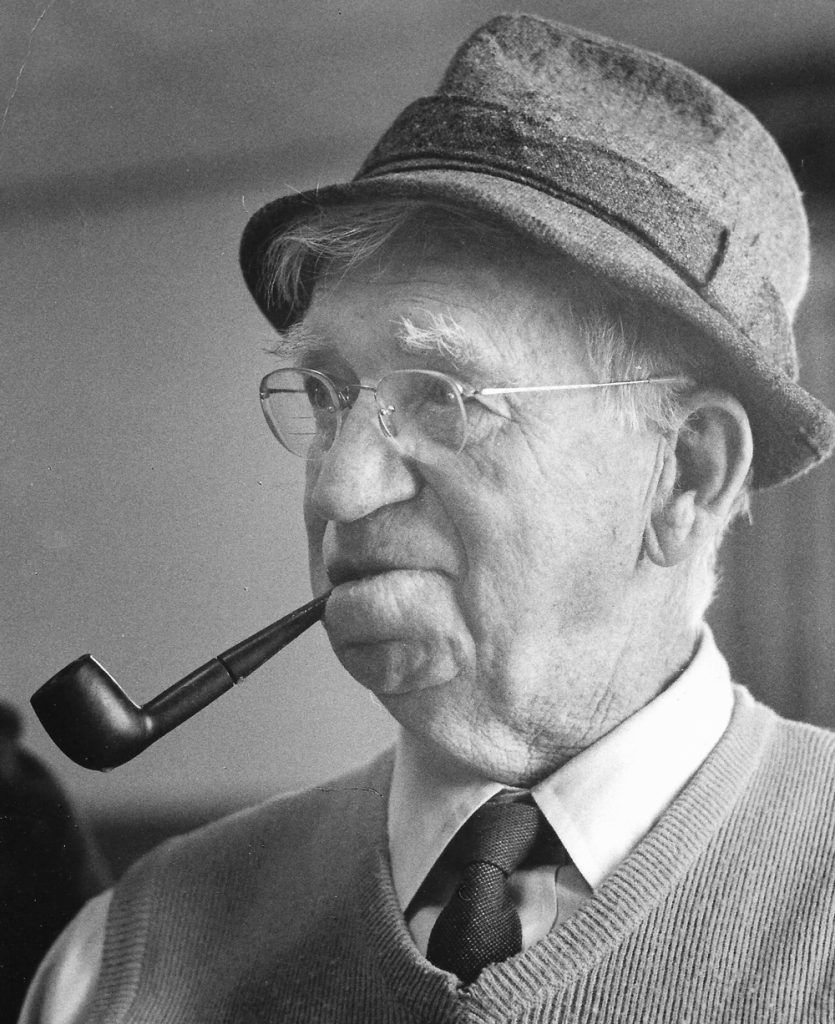 Sailing History Treasure Trove
No task provides quite so much perspective as looking through decades of forgotten photos—especially if they were filed according to someone else's thought process. Thumbing past folder names in the four boxes labeled "Famous Peeps" made me chuckle—because I've sailed with or against so many legends in our sport. Deeper dives were rewarded too, thanks to all those pre-internet Sailing World photo editors who'd labeled most of the images. Along the way, I paused to wonder just what creates a lasting impression; all the stories these headshots illustrated had long since disappeared into the fog of yesteryear. 
I think of Dave as a contemporary, but he is five years younger—which meant that holding up a mis-filed sheet of age-darkened, double-spaced, dot matrix printing provoked only a shoulder-shrug. "My first stories to Sailing World looked just like this!" I told him, instantly transported back to those hope-filled days of mailed-in submissions, SASEs—and one font for everyone.
Lucky Label
It was in the "miscellaneous Ns" folder that I found the unexpected treasure that graces this post. A square yellow post-it note on the back identified the salty guy as Aage Nielsen—a legendary designer of classic sailboats much admired by my father. Dave didn't even recognize the name, and we both wondered why such an ancient photo would've been included in a 1980s issue (time-stamped by that post-it). A few days later, my dad solved this mystery; Holger Danske, the double-ended ketch that was the surprise winner of the 1980 Bermuda Race, was one of Aage Nielsen's designs.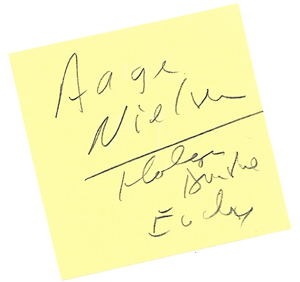 Combing through the Sailing World archives turned out to be a perfect example of a research rabbit hole that yields something completely different than what initially inspired the search. It was also a lovely trip down memory lane—and the spark for at least one blog. Images often inspire fresh stories, even though we think their sole job is to illustrate. Who knows what future inspiration will come from a morning of blind digging into sailing history?
Thanks Dave for the trip down memory lane—and for all those potential story sparks. Thanks to the rest of you for spending time with me while I share my meanderings, and please let me know what's sparked your own memories lately. I read every comment and email you send, with gratitude.
More on Holger Danske
If you want to read more about that 1980 Bermuda Race, crewmember Twig Burke wrote a remembrance on the 40th anniversary. On the docks in Newport, observers were not impressed with his ride:
"And when they came upon Holger Danske resting in port amongst a maze of yachts, they probably had her pegged for The Cooks Trophy, reserved for the last place finisher. That thinking had no place in the mind of young skipper Richie Wilson…he had a plan."
Before the start, Twig continues, ". . . we were escorting the best-looking girl at the dance . . . wooden spars, flawless topsides reflecting off the water, and varnished cap rail and butterfly hatch gleaming in the morning sun…with young Wilson at the helm full of nervous anticipation. To the greyhounds in our midst, with their 'too cool for school' crews in their team uniforms, we were just road kill… 'stay out of our way…we have a race to win!'"