One of the best reasons to paddle around our local harbor on a summer weekend is the chance to boat gawk. Dutch Harbor is a favorite overnight destination from Newport, and over the years I've drifted by schooners, classic race yachts, and even boats that I've had the chance to write about. I always pause alongside the most beautiful ones—and sometimes enjoy a nice chat if there's another early riser lounging in the cockpit.
But when I left the dock just after sunrise a few Sundays ago, the odds of spotting anything familiar—or anything at all—seemed quite slim. Overnight fog had cat-footed across the Bay, reducing visibility to less than 50 feet and softening every rocky crevice with its damp wooly filter. So instead of heading out to blindly circumnavigate Dutch Island, I paddled north and kept the shoreline just within view to starboard. The privacy of my own gray-edged bubble reminded me of foggy childhood cruises aboard Katrina, when nothing was certain except her compass and its steady white lines. That Sunday morning, I had to rely on my own internal compass—while trusting my ears to pick up any passing motorboat traffic. (Fortunately, no one else was moving yet.)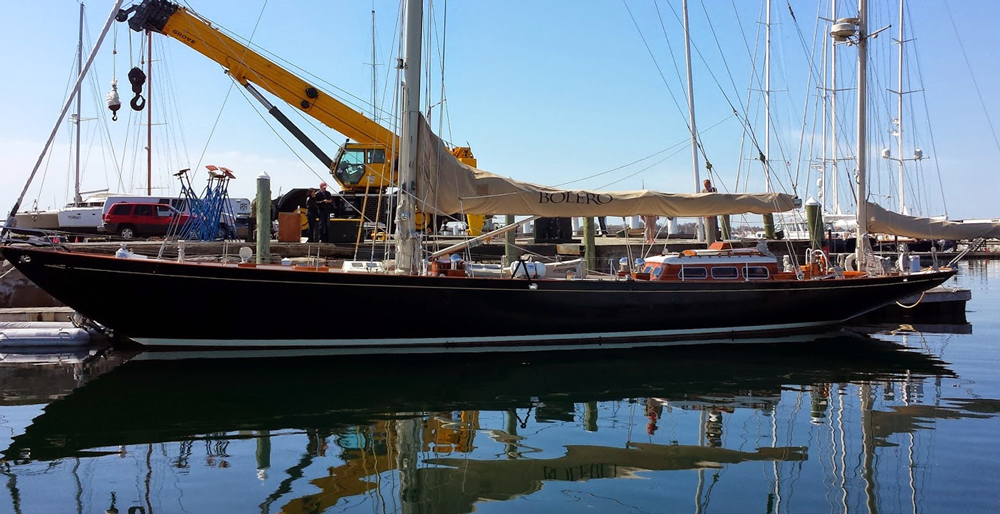 When it was time to turn around, retracing my steps along the same barely visible shoreline seemed way too dull. Instead I decided to take a more direct route back across the silent and invisible harbor, counting my paddle strokes on each side of the board to maintain a steady course—and adding five extra strokes on the starboard side, just to be certain that the ebb wouldn't wash me out into the Bay. A decade of paddling across this same stretch of water has honed that internal compass, and though the first moored boat seemed to take forever to appear out of the fog, I eventually found myself right where I expected to be: at the northwest corner of the large mooring field. A navigational victory!
But just to port was a completely unexpected profile: the hazy outline of an anchored black yawl that I quickly recognized as Bolero. Originally built in 1949, she was restored in 2010 and has been a welcome summer sighting ever since. No one was stirring yet on deck, so I quietly paddled by her tiny transom unnoticed. All too soon her classic lines and glistening varnish had been erased once again by a fresh swirl of fog, captured only in my memory.
Now that I was safely within the mooring field, I altered course twenty degrees to starboard to head for Matsya, my morning paddle's finish line. And that's the only reason I had my second sighting, just off the starboard bow, of Hound. This Aage Nielsen design was built in 1970, the same year as Katrina, but thanks to a significant update she is still winning races—including a class victory in the 2022 Bermuda Race.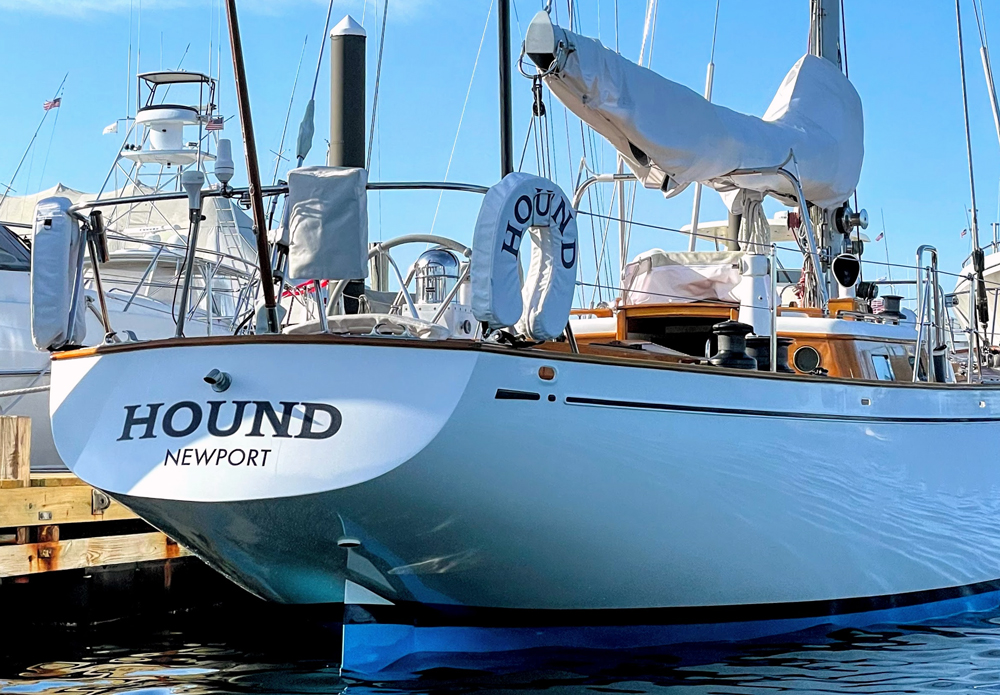 Why do I know so much about Hound? Two days before catching my foggy glimpse of her sweet lines and that well-varnished cabin trunk, I'd been digging into her history (and that refit) for a future Seahorse story. Now here she was, in the "flesh"—thanks to one impulsive decision, to cross the harbor instead of paddling back along the shoreline!
After a respectful pause—to admire Hound, to consider two amazing turns of chance, and to appreciate the small world of boats—I picked my way south through the foggy mooring field and tied up to Matsya, where I dove in for a lovely cooling swim. So it wasn't until I headed into the dock again that I had my third and final classic sighting: Swamp Yankee, a Block Island 40 that we raced against in the 1970s, back when Katrina and Hound and I were all just kids.
She too looked well cared for, and at first I thought her cockpit was also empty—until I spotted one very young crew member, standing watch in his jammies, protected from damp swirling mist by a low dodger. Though he didn't see me, I'm absolutely certain that he was making some memories of his own that will be treasured for many years to come.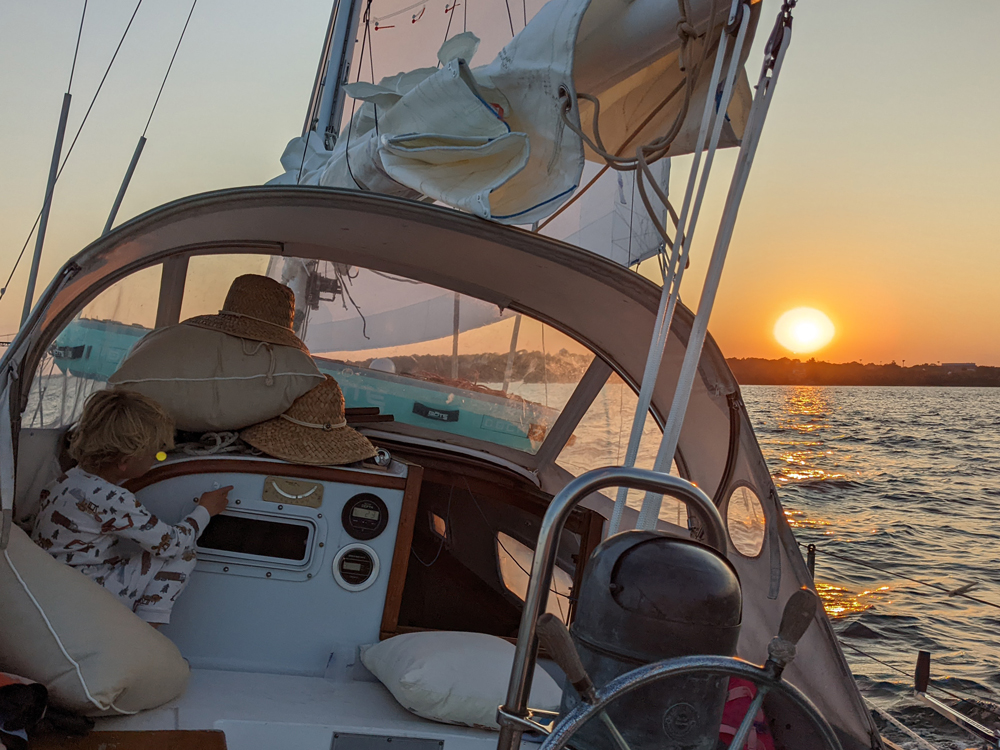 Thanks to three surprise sightings on a very foggy Sunday morning, my boat sighting bank is once again well stocked. So here's to classic yachts, their people both tall and small, and their inspiring stories—and, of course, to the honor and challenge of writing about them.
PS Thanks for taking the time to read my weekly posts. Want more about books, boats, or something else altogether? Share your thoughts in the comments below, or send me an email. I read every single one, with gratitude.