Cape Cod Surprise: The Story Behind the Story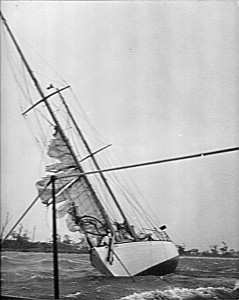 Behind every fictional story is something that sparked the author to write it. For me and Cape Cod Surprise, it was an interest in Hurricane Carol.
I probably would've been interested in a Hurricane that shared my name anyway, especially one that was signifcant enough to have its (our) name retired forever. But I happened to grow up looking at photos taken by my father during that incredible storm, and those photos made me feel like Hurricane Carol knew about ME, too.
I might have forgotten my childhood interest if my parents hadn't passed along those photos when they downsized homes. Now they were staring at me from my own living room walls, which eventually led me to wonder what would've happened if Oliver traveled back in time again (to 1954 this time) and lived through "my" hurricane on Surprise.